Top Waterfront Restaurants In Naples, Florida
By The Aerial Companies, Inc. - April 24, 2023
If you're looking for a unique and sophisticated dining experience, look no further than the waterfront restaurants of Naples, FL. From luxurious and upscale to relaxed and casual, there's something for everyone.
Related Blog: Discovering The Finest Cocktails in Naples, Florida

Enjoy the beautiful views of the Gulf of Mexico and the surrounding area while enjoying a delicious meal prepared by world-renowned chefs. Whether you're looking for a romantic evening out or want to relax and enjoy a meal with a view, these waterfront restaurants in Naples, FL are sure to impress.
Ritz Carlton
Located on the stunning beaches of Naples, Florida, The Ritz-Carlton, Naples is a luxurious destination for those looking to experience fine dining and hospitality. This elegant resort features a variety of restaurants and bars, offering an unparalleled level of sophistication and quality. The Grill at The Ritz-Carlton, Naples features hand-crafted steaks and cocktails, while Gumbo Limbo offers up exquisite seafood dishes. For a more relaxed al fresco experience, Terrazza is the perfect spot to enjoy classic Italian cuisine while admiring breathtaking views, either on the open-air terrace or indoors by the floor-to-ceiling windows. Mirroring a beach-like twilight, DUSK is an exquisitely designed sushi restaurant, featuring an inventive cocktail selection, sleek décor, and contemporary design indoors and plush lounge sofas on an outdoor terrace overlooking the Gulf, DUSK makes for an unforgettable evening.

The culinary experiences at The Ritz-Carlton, Naples are inspired by the beauty of the beach and complemented by the captivating Florida sunsets. Whether you're looking for a romantic evening or simply want to try something new, The Ritz-Carlton, Naples is the perfect choice for waterfront dining.
M Waterfront Grille
Located on the waterfront in Naples, Florida, M Waterfront Grille is a contemporary restaurant offering cutting-edge continental cuisine. Boasting five unique settings, the restaurant provides stunning views of Venetian Bay and the Gulf of Mexico. M Waterfront Grille has earned a reputation as both a local favorite and a destination restaurant. Its award-winning wine list adds to its appeal.
The Main dining room is one of the largest waterfront dining rooms in Naples and boasts waterfront tables and cozy, booth seating that overlooks the bay.
Alfresco dinner guests may take advantage of comfortable furnishings with sun and shade seating, bay breezes, and lively marine life, with public docking at Park Shore Marina available for boat-arrivals
Dining on the Terrace affords guests three walls of glass doors that overlook Venetian Bay, making it one of the only private waterfront dining rooms in Naples, suitable for both professional and social events.
The M Lounge provides a casually sophisticated atmosphere for cocktails and dining, with live music some evenings adding to the atmosphere.
Lastly, the Verandah is an open-air setting for dining and drinks adjacent to the M Lounge and is also one of the most pet-friendly dining destinations in Naples with some nights offering live entertainers.
The menu at M Waterfront Grille focuses on fresh seafood, steaks, organics, and handmade pasta. Diners can expect a unique and delightful dining experience. With breathtaking views, innovative dishes, and award-winning wines, M Waterfront Grille is the perfect place for a luxurious dining experience.
Riverwalk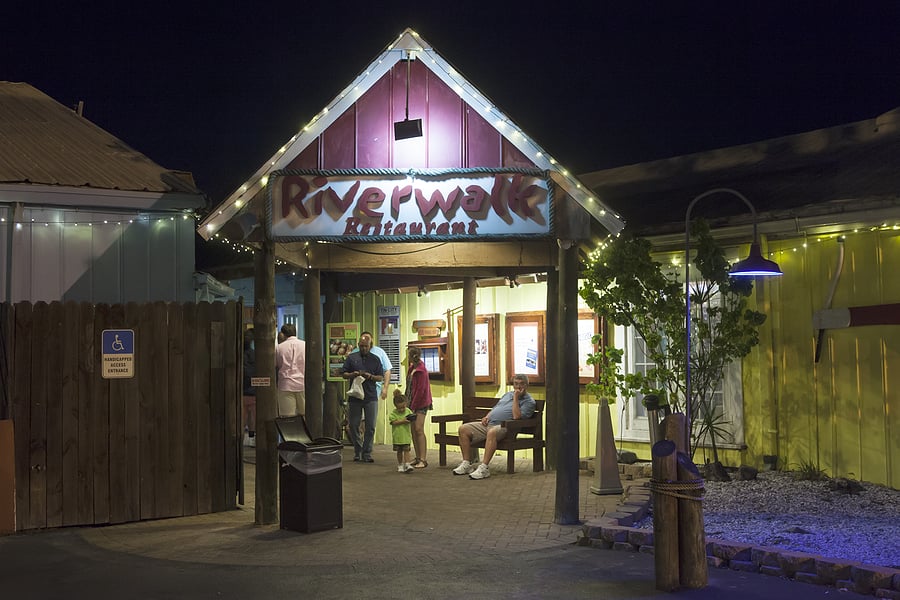 Located at the historic Tin City, in Naples, Florida, Riverwalk is a favorite for both locals and visitors. This waterfront restaurant offers a casual atmosphere with warm hospitality that makes it the perfect place to relax and enjoy fresh seafood. It also has a full bar, delicious craft cocktails, and an impressive wine list.

For special occasions or large parties, Riverwalk can host events and feature live music, making your visit even more memorable. As you eat, you can watch dolphins swim in the nearby Naples Bay, providing a beautiful backdrop for your meal.

Riverwalk is renowned for its variety of fresh seafood options you can select at the raw bar. From grouper to scallops to shrimp, they have something to satisfy everyone's cravings. The menu also features classic dishes such as salads, steaks, burgers, and sandwiches. No matter what you order, you're sure to be satisfied with the quality and flavor of your meal.
Hamilton Harbor Yacht Club
For a luxurious waterfront dining experience, the Hamilton Harbor Yacht Club is the place to be. Located in a protected harbor beside the pristine shores of Rookery Bay, this exquisite restaurant offers breathtaking views of bay waters and sunsets. Boaters can cruise south to Rookery Bay or due west through Gordon Pass in less than 10 minutes, making Hamilton Harbor Yacht Club one of the few waterfront dining options on Naples Bay.

The Hamilton Harbor Yacht Club combines fine cuisine with stunning views for an unbeatable dining experience. From the season's best fish, flown in fresh every day, to local organic greens, you'll find selections that are both traditional and avant-garde.
The Bay House
The Bay House Restaurant in North Naples is treated to stunning views of the Cocohatchee River from a range of seating options. The most formal dining experience can be found in the main dining room with sweeping views of the bay. The waterfront deck offers a more al fresco dining experience, accompanied by beautiful sunset views, while the front patio provides an inviting, casual atmosphere complete with a fire pit.

The Bay House offers a wide variety of dishes, ranging from all types of seafood to southern-influenced dishes and regional fare. For those looking to enjoy a taste of the local flavor, many of The Bay House's signature dishes feature locally-grown and locally-sourced ingredients. Guests will be able to indulge in a vast array of wines, locally brewed craft beers, and signature cocktails while enjoying a unique experience featuring post-dinner drinks and exclusive mocktails to cater to everyone's desires.

With live music in the Tavern seven nights a week, The Bay House provides an elegant and refined atmosphere for a truly unique culinary experience.
Kelly's Fish House Dining Room
Built in 1952, Kelly's Fish House was initially a net and gear shop for local fishermen and shrimpers. With time, it eventually evolved into Kelly's Fish House Dining Room. Keeping its authentic, homely feel as the decor and ambiance remain similar to what they were decades ago, this family-owned and operated restaurant has been serving up delicious seafood dishes since 1981.

At Kelly's Fish House Dining Room, you can expect a warm and rustic atmosphere. You'll find nautical and historical artwork and photos on the walls, netting draped across the windows, and beautiful shells scattered throughout. The restaurant's atmosphere is inviting and the perfect spot for an intimate evening out. The food at Kelly's Fish House is unpretentious and prepared simply. A variety of seafood options include grouper, snapper, and shrimp cooked to perfection, as well as burgers, sandwiches, salads, and sides. If you're looking for a relaxing atmosphere or delicious seafood, Kelly's Fish House is the perfect place.


---

If you're ready to make Naples, Florida your home away from home, make sure to get in touch with The Aerial Companies. Our expert team will work with you to create the perfect luxury custom home. Contact us to learn more.